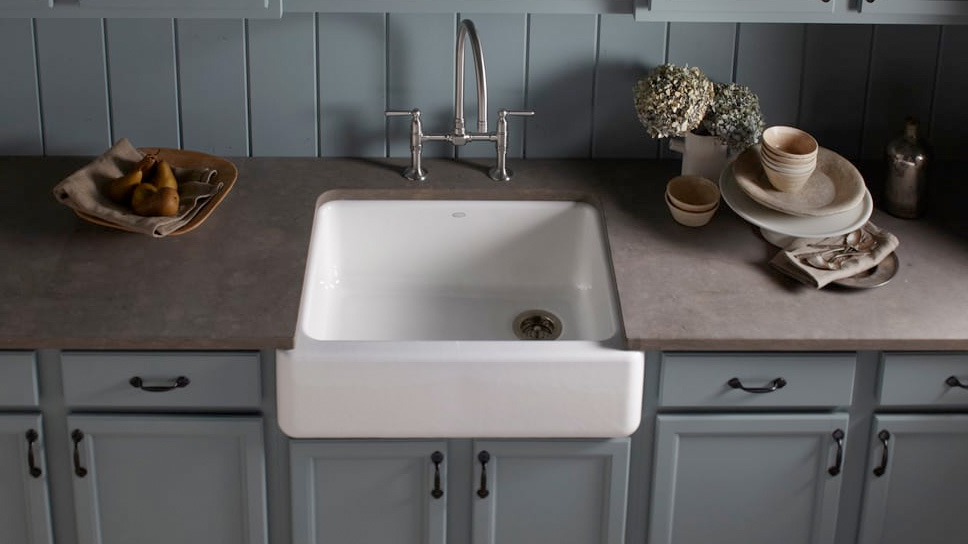 Make kitchen tasks easier with a sink designed for the way you work.
Which type of kitchen sink is for you?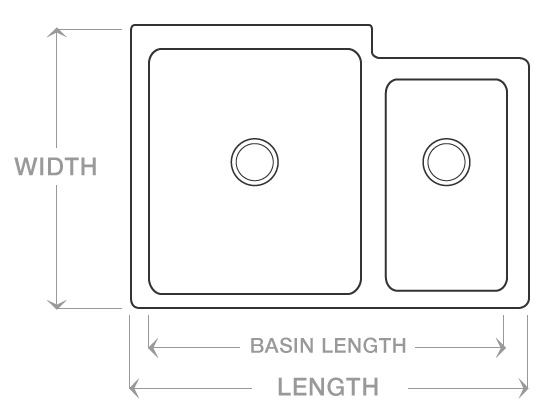 Available in a variety of colors and materials, there's a kitchen sink to fit every lifestyle and decor. We've put together some tips for finding the perfect style, size, and configuration for your space.
Kitchen Sink Size
Installing a Sink in a New Countertop
Measure the space between cabinets to determine the maximum length of your new sink. Make sure you have enough counter space on either side of the sink for prep, especially in a corner location. Position the sink closer to the front edge of the counter for comfort and access.
Replacing an Existing Sink 
Measure the opening in your existing countertop and choose a new sink to fit. Most drop-in sinks have a ½ inch lip so you will need to consider this for a proper installation.
Make sure to consider sink depth. Additions, like garbage disposals, can add significant depth. Consider a deeper sink for larger pots and pans.
Kitchen Sink Installation Types
Drop-In Sinks
Drop-in (or top-mount) sinks are set into a hole cut into the countertop and the are the easiest to install.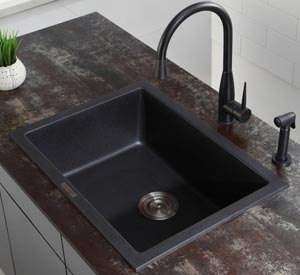 Undermount Sinks
Undermount sinks are attached below the countertop and create a flat surface, making work-area cleanup easy.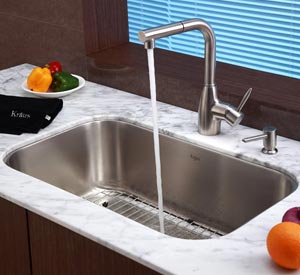 Farmhouse Sinks
Also known as apron sinks, the deep, wide, basins are perfect for washing large pots, pans. Adding a touch of chic country charm, farmhouse sinks are available in a variety of sizes and materials. Some models are available in stainless steel for a more contemporary look.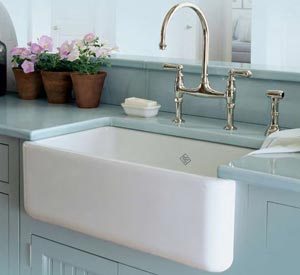 Number of Basins 
Kitchen sinks are available in single, double and triple basin configurations. Here are the advantages of each to help you choose which is right for the way you work.
Shopping Tip: "Basin Split" refers to the percentage of space each basin takes up for a double bowl sink. The most common options are 50/50, where the sink bowls are the same size, and 60/40, where one basin is larger for larger pots and pans.

Single Basin Sink
Wide-open area
Great for large pots and pans
Typically much deeper than double or triple sinks
Drains may be off to one side, where the sink is sloped to one side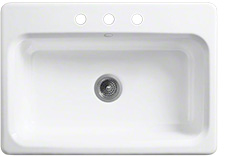 Double Basin Sink
Choose between equal sized basins or one small and one large basin
Consider one basin that is larger than the other to hold pots and pans
Great for working on separate tasks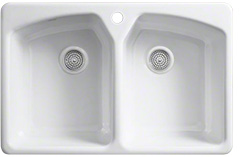 Triple Basin Sink
Choose two large and one small basin, three equal sized basins, or three basins of different sizes
Typically wider than standard sized sinks
The third basin is great for kitchen prep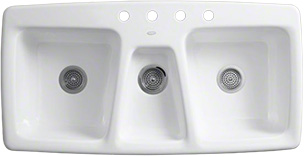 Number of Faucet Holes
The number of holes in your sink will narrow your faucet choices. Extra openings can be covered by escutcheon plates or special hole covers, or filled with accessories like built-in soap dispensers.
Single hole sinks

Two hole sinks

Three hole sinks

Four hole sinks
Drain Placement
Consider the location of existing plumbing and the type of work you do in the kitchen when choosing the drain placement of your new sink.
Off-center drain
Pro: More Space under the cabinets
Pro: Plenty of space to wash big pots and pans while allowing water to drain freely
Pro: Room to prepare food without having it slip down the drain
Con: Can be difficult for repairs because the plumbing is pushed to the far back or corners
Centered drain
Pro: Water drains faster than an off centered drain because there is less distance to travel
Pro: Better access for maintenance or repairs
Pro: Aligns with a centered faucet
Con: Large pots and pans may block drainage
Left drain sinks
Right drain sinks
Center drain sinks
Rear drain sinks
Material
Consider aesthetics and maintenance requirements when choosing the material your sink is constructed of.
Stainless steel
Great for a modern look
Most popular style
Requires cleaning to eliminate water spots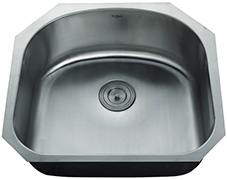 Copper
Natural anti-microbial qualities
100% recyclable material
Patina changes over time for a unique look
Requires more care and attention than many materials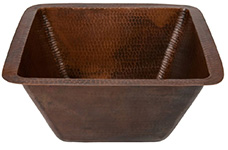 Granite Composite
Nonporous surface is easy to keep clean
Resists scratches, chipping and discoloration
More durable alternative to granite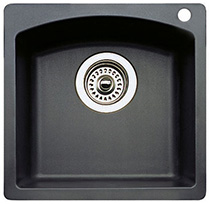 Cast Iron
Glossy finish
Easy clean up
Withstands high heat
Enamel may scratch over time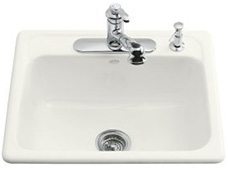 Fireclay
Non-porous, durable and glossy material
Resists scratches, stains and chips
Fired at very high temps for extra durability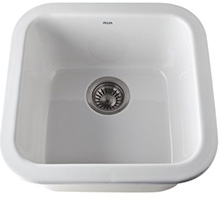 NativeStone
Handmade by artisans using a strong blend of cement and jute fiber
Eco-friendly and heavy duty
Stain-, scratch-, and crack-resistant
Innovative and remarkably lightweight for cement